Myopia is a pathological process of eye elongation
The world today, for the young population, includes ever-increasing computerisation and intensive education. This together with increasing mobile electronic devices and reduced outdoor time has lead to an almost adaptive process of the eyes being near focused (short-sighted or so-called myopia).  
The anatomical impact of this is an elongation of the eye to take in the near focus. 
This stretching of the tissues of the eye causes stress that can cause irreparable damage to the eye and lead to a severe visual loss. 
Conditions such as retinal detachment and retinal degeneration will occur in many of these stretched eyes and represent a very significant risk of significant visual loss that might impact on jobs, driving or even blindness. 
It might be impossible to change the habits of the young and encourage outdoor time, however, we can slow the progression of myopic elongation by appropriate vision correction with specialised spectacles or contact lenses. 
Percentage of myopic people in the world (1)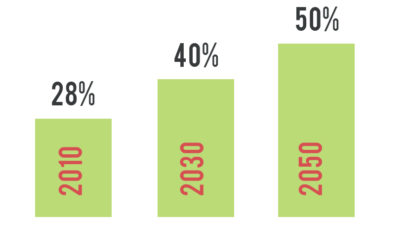 Risk of retinal detachment according to the amount of myopia (2)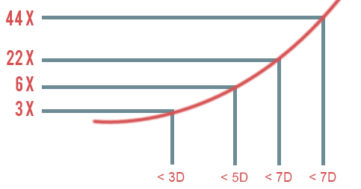 (1) Holden BA, et al., Global Prevalence of Myopia and High Myopia and Temporal Trends from 2000 through 2050, Ophthalmology, May 2016 Volume 123, Issue 5, Pages 1036–1042(
2) Vonghanit, et al. Contact Lens & Anterior Eye BCLA Abstracts 2012, Blue Mountains Study
TO SIMPLY LET A CHILD PROGRESS IS NO LONGER NECESSARY OR ACCEPTABLE 
Choose one of the modules or book the complete course
INTRUDUCTION 
into the Myopia Management course
The complications of a high Myopia
Health | Life condition | Treatments 
The influence of binocular vision and myopia
Phoria | Accommodation | Posture 
Soft contact lenses for myopia control
Mechanism | Possibilities | Fitting
Cornea moulding to control myopia
Mechanism | Possibilities | Fitting 
The communication with parents and kids
Motivation | Consultation | Psychology 
Special glasses for myopia control
Mechanism | Possibilities | Measurements